Rasmussen College Grand Opening a Success
Mar 2008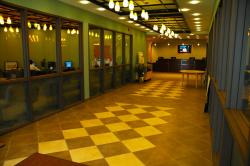 Mankato (MN)— Rasmussen College's Grand Opening took place yesterday and was a successful event.
Though courses have been taught since January, the College's Grand Opening to the public took place last night on Tuesday, March 11, 2008. The event took place in conjunction with the Mankato Chamber of Commerce's Business After Hours. Several hundred people with both current and no previous involvement came to the event.
The new Mankato Campus is located in the Victory Commercial Park at 130 St. Andrews Drive in Mankato, at the intersection of Highway 14 and Victory Drive. The new campus will be approximately 21,000 square feet and it will be a single level facility complete with labs, a library, lounges, classrooms, and offices.
The developer/landlord is Venstar, the architect was Paulsen Architects and the general contractor was Met-Con construction.