New Rasmussen College Building Project Breaks Ground
Jul 2007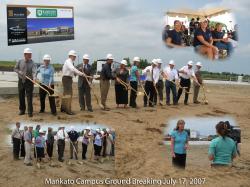 Mankato (MN)— Rasmussen College, a private, career-education college system in Minnesota, broke ground on a new campus in Mankato last week.
Rasmussen College broke ground on its new Mankato location on Tuesday, July 17 at 1:30 p.m., and the community was invited to join in the celebration. The ceremony featured remarks by school and local officials, a photo opportunity, an overview of the project, and refreshments.
The new Mankato Campus will be located at 130 St. Andrews Drive in Mankato, at the intersection of Highway 14 and Victory Drive. The new campus will be approximately 21,000 square feet and it will be a single level facility complete with labs, a library, lounges, classrooms, and offices.
Rasmussen College vacated its current site on Madison Avenue due to the Victory Drive construction project that connects the north and south sides of the west side of town.
"We are pleased to be able to deliver a quality site and building to a quality tenant in such a short timeframe" said Nino Pedrelli, President of Venstar. "Rasmussen is a wonderful anchor occupant of the Victory Commercial Park.
Rasmussen College is expected to take occupancy of the facility on approximately December 1, 2007 and students will begin classes on the campus in January 2008.
Venstar, LLC is the developer with its key team members Paulsen Architects, Met-Con Construction, and Crown Bank.