Venstar, LLC and New Era Development Launch New Web Site
Jan 2007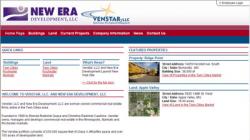 Venstar, LLC and New Era Development, LLC are pleased to announce the availability of venstarllc.com.
We now have the ability to keep you informed of news, and items related to our properties.  The new site includes a Content Management System, which allows us to make updates to the web site on regular basis.
Please take a moment to browse the site, and if you would like to please provide us any feedback by visiting our contact us page.